OB Events
Upcoming Events
Saturday, 10th June 2023 – Centenary Sports Day
Former pupils, parents and friends and current pupils and parents.
Saturday, 9th Sept 2023 – 2017 Leavers Reunion Dinner
Please complete this form if you are a 2017 Leaver and would like to attend. RSVP
Tuesday, 7th
November 2023 – OB Centenary Lunch,
at Belhaven, (Leaving Date – up to and including 1969)

11.45am Arrival with coffee

12.00 noon Tour of the School with current pupils

12.45pm Drinks in the Headmaster's drawing room

1.00pm Lunch in the dining room

2.45pm Departure

Cost £35.00
Past Events
Saturday, 27th May 2023 – The Centenary Ball
Over 600 Old Belhavians, family, staff and friends of the school were blessed with the most beautiful of summer's evenings on Saturday 27th May as Belhaven played host to the Centenary Ball. Courtesy of the generosity of our sponsors, donors, volunteers and an incredible amount of hard work by the Committee, the celebrations were a stunning success. Read more about the event
The Centenary Play: 'Becoming Belhaven'
Anna McGrath's script for the Centenary Play brings School history to life!
Hiding form the Thursday Run in the attic space of the main house, four current Belhavians discover what seems to be a history of the School.

As they leafed through its pages, events sprang to life on stage as the fugitives became narrators, two newsreaders kept us informed as to broader global events and 'The Band', a quintet of singers, reflected the mood of both nation and School with well-chosen song choices.

The Centenary Concert (February 2023)
The Centenary Concert of Belhaven Hill School took place on Saturday 25th February 2023, in the stunning setting of Haddington Parish Church, which is the largest Parish Church in Scotland.
The evening was also to see the launch of our Centenary Choir - a group of around 50 adults consisting of parents, staff, former pupils and members of the Dunbar Choral. Coupled with the wonderful organ and our friends from St David's Brass in Gorebridge and our own Choristers, we hoped to create quite a sound! Read more about the event and watch the recording.

(Below: Andrew, a senior OB (1942) congratulates Alexander on a stunning solo performance).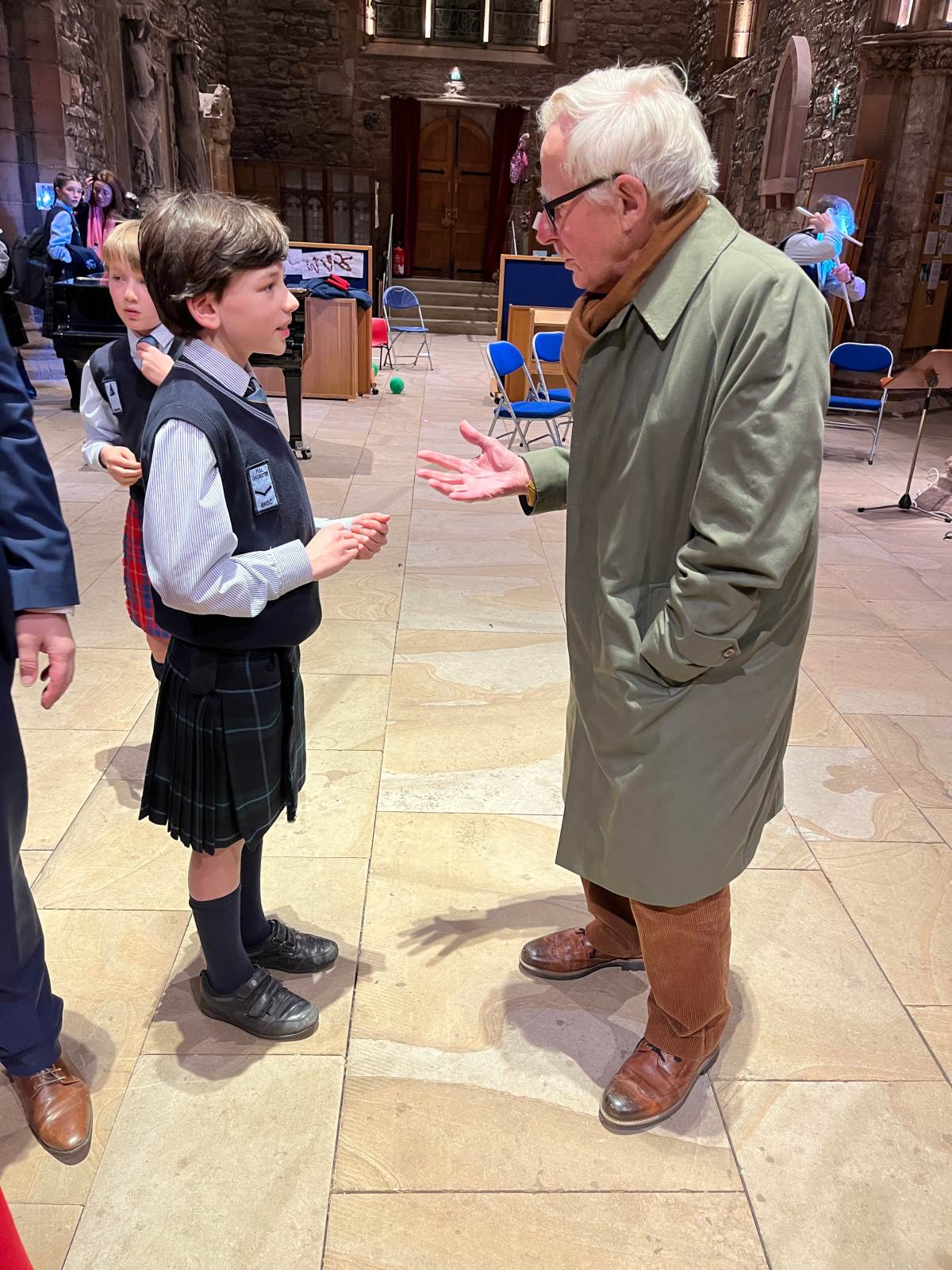 Drinks in Paris (November 2022)

It was very exciting to host the first ever Old Belhavian Event in Paris in November 2022 - visits to two incredible schools and a drinks party for 80 Belhaven friends and family old and new.
Belhaven Leavers' Dinner – 2015 & 2016 (Sept 2022)
At the beginning of September we held a dinner for the 2015 and 2016 leavers, which was a huge success. With most of the senior school leaving balls having been cancelled due to Covid, it made it all the more special to bring everyone back to Belhaven. They all ran to the red stairs to bag their seats (nothing changes!) and swapped gap year and university stories. We look forward to welcoming back the 2017 leavers on Saturday 9th September 2023.
Thank you so very much for organising such a wonderful night this weekend for the 2015 and 2016 Belhaven Leavers. [Our son] said that it was superbly organised and that the night just raced by. He so enjoyed catching up with such an impressive turnout from his year group and, as ever, the Belhaven community shone brightly as a leader in prep school relationships and their importance in future lives.

Former Belhaven Parent