Match Reports: Boys' Cricket against Strathallan
Belhaven Hill Boys' Cricket Match Reports for games against Strathallan
1st
Cricket is back, how exciting! The boys have been training very hard over the past two weeks in preparation for their first fixture against Strathallan.
After a short warm up the captains took to the middle to toss up. Johnny won the toss and elected to bat first. Our openers, Beetle and Eck, strode out to the middle and made a strong start by running between the wickets well. Beetle pushed on, hitting three 4s within 9 balls. They kept things ticking over but Beetle was undone with a good ball that hit top of middle. Eck retired on 10 that brought Johnny and Alfie to the crease. Again, good running between the wickets; Johnny earning shot of the day with a smashing cover drive that raced to the boundary for 4. A good partnership between the two of them took our score up to 77-1 off 10.
Both batsmen retired soon after, bringing Sam and Jamie in. Scoring started to slow up a little owing to some good bowling; Sam playing it safe and Jamie trying to use his long leavers to full effect. Jamie was then gifted a free hit, which he proceeded to smash over mid-wicket for 6. Not long after Jamie was caught, which brought Ted to the crease for the last 2 overs. Sam and Ted tried their best to finish strongly but some good bowling and fielding restricted us to 135-3 from our 20 overs.
A quick match tea and we were straight back into it. Alfie and Ted with the new ball in hand found it a struggle to control the new ball, especially in the first game of the season. And so, with our line and length not perfected, we let a few extras go. We needed a breakthrough; Harry was thrown the ball and bagged 2 wickets in his first over! Jamie and he bowled together nicely. Harry then took his 3rd wicket in his second over. Strath 46-4 after 10 overs.
Wilf and Campbell were then given the chance to bowl at the middle order, both taking a wicket and bowling well. Fin and Johnny then bowled at the tail. However, the batters played well at the end, striking some boundaries. Harry came back for the last over, finishing the innings off in style with a wicket on the last ball. Strath ending up on 87-9, a respectable effort.
Many thanks to the parents for coming along to show your support. Well played gentlemen.
Mr Brown
Final Score: Belhaven win by 48 runs.
Player of the Match: Harry B – figures of 4-13 from 4 overs
U11A
After twenty seasons of coaching the Belhaven Hill 1st XI (it's quite sobering to think that I'd done so for a fifth of the school's existence!), today's match marked quite a change for this coach. Some things never change, however, and the first match of the season is always a good indication of how the season might pan out.
This game was played as a paired game – also a first for Mr. Townshend – which was ideal in the early part of the season as it ensured that everyone got the opportunity to strut their stuff with the bat and ball. Our skipper for the match – Charlie – lost the toss and we were asked to bat first.
We started with Rollo & Hamish and they put their 3 overs to good use, scoring 19 runs – 7 of those off the bat. Encountering balls that were close enough to the bat to hit was a bit of a recurring theme to our innings and, indeed, after a couple of overs, Hamish was rather surprised to find one coming towards his stumps – so much so that he missed it entirely and was bowled!
Charlie and Hector were next in and they did score well, chasing down the balls and swiping them to the boundary time and again. They added 34 to the total, 25 off the bat.
Noah and Jack, after a slow start, ran some entertaining, if not downright outrageous runs and kept the score ticking over before Wilbur and Harry had their turn, batting well with both boys playing some lovely shots. Harry was run out at one point but they scored positively.
Our final pair of Arthur and Tommy also tried to play positively though their running was a bit more cautious than the wild abandon we'd seen earlier. Arthur, in particular, played with a nice, straight bat.
So, after our allotted 15 overs, we'd added 75 runs to our starting 200 for a grand total of 275.
The bowling was also shared about with everyone (apart from our wicket-keeper, Jack) bowling at least one over and most, two.
Arthur, who is new to the game and has been working impressively diligently on his action, picked up two wickets in his two overs, narrowly missing out on a hat-trick. Wilbur was brisk and accurate, bowling two maidens and collecting one wicket while Charlie and Harry were both metronomic bowling beautifully straight and mostly pitched up. Each of them was rewarded with a wicket.
Rollo struggled with his length but did enough to get his first scalp of the season (he will get many more) while Noah improved as he went along and was rewarded for his efforts. Hector got a bit of turn with his leggies and bowled some jaffas, collecting one wicket.
All the while, the boys fielded enthusiastically, backed up, threw in well, took their catches and generally seemed to enjoy themselves while limiting Strath's scoring options.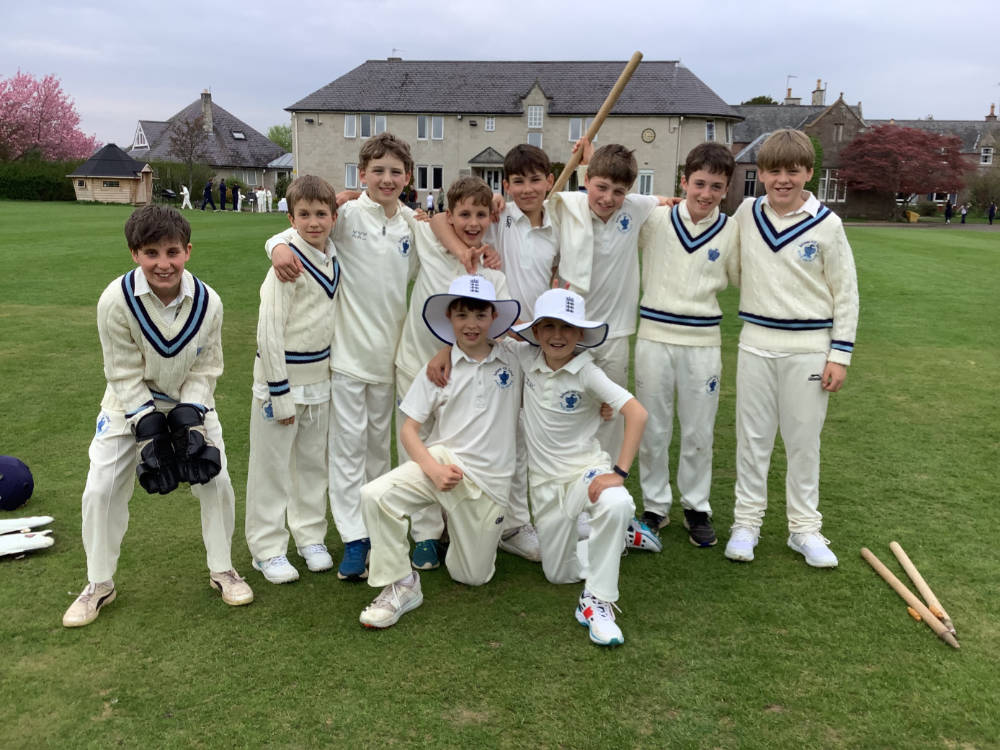 In the end, it was a comfortable victory (there will certainly be greater challenges ahead this season) but more importantly than that, they enjoyed themselves, they put some of what we have been working on into practice, and they kept improving. In a true sign of a successful fixture, in my opinion, it took no small effort to drag the boys away at the end as they were having so much fun engaging with their newfound friends. Brilliant.
Result: Match won by 84 runs.
MOTM: Charlie. Captained well, batted brilliantly and bowled very accurately.
Mr T
U9
U9 boys register comfortable win against Strathallan.
Today Belhaven U9 boys had their first fixture of the season, in what might have been the first ever U9 cricket match against Strathallan. I can certainly not remember a match at this age-group before.
Strath batted first and after a couple of loose overs, Innes got us well on the way with a wicket, caught by William. Two overs later and it was Robin's turn as he forced a shot which led to a confident catch from Xander. Xander himself got hold of the ball just before the halfway point of the innings and took two clean-bowled wickets in consecutive balls, before Alexander took one more in the next over. In the tenth over Leo joined in the act with a wicket caught again by Xander and Strath were edging down perilously close to their starting score. Thankfully they picked up, and despite a second wicket for Leo, expertly caught by William and a final clean wicket for Xander, Strath ended on 26 for 6 after 16 overs, though we let them bat on for an extra 8 overs (for a total of 35) as they had brought more than eight players who needed a bat.
First Innings: Strathallan 26 for 6 from 16 overs.
In reply Belhaven quickly notched up the runs and within four overs we had reached our target. Alexander and Innes scored 34 from their four overs at a loss of just one wicket, Alexander being clean bowled. The same player hit a beautiful volleyed 6 to compensate. Robin and Xander moved the score on, scoring 52 from their overs for the loss of no wickets. Xander excelled with the bat, dispatching 14 off his first over and 22 his second, including three consecutive 6s.
Next up were Ben and Oak who scored 16 for the loss of Oak falling to the straight ball and then Ben pushing overly energetically and causing a run-out. Finally, William and Leo added 45 runs, only William's wicket falling clean bowled once.
Our batting was aggressive and running between the wickets keen, but we need to keep looking at our bowling to ensure we give away fewer runs through wides and no-balls.
Second Innings: Strathallan 147 for 4 from 16 overs.
Stats:
Wickets

: Xander (3), Leo (2), Alexander, Robin, Innes (1).

Catches

: Xander, William (2).

Run-outs:

-

Stumpings:

-

Runs:

Xander 30 (no loss of wicket), William 19 (1 wicket), Oak, Alexander 14 (1), Leo 9 (0), Innes (0), Robin (3), Ben 4 (1).
Well played everyone!
Next up: boys' and girls' mixed training and matches versus Fettes, 10th May, 2023 (h.).
Man of the Match: No contest – with three wickets, two catches and thirty runs to his name, Xander L.
Result: Belhaven U9 boys win by 121 runs.
Boys Cricket: U9 against Strathallan 2023