Pre-Prep welcomes first five year olds into Form 8!
The Belhaven Pre-Prep has had a brilliant and busy start. We welcomed our lovely Form 8s into the school and new children into Form 6. They have all joined their Patrols and have a buddy in Form 6 who are doing a super job at looking after them and helping them to settle in.
Form 8 (Mrs Semple)
The pupils of Form 8 have really enjoyed meeting lots of members of the school community over the last week and a half. A particular stand out individual, who all the children have fallen in love with is Cora (Form 6's dog) who joins us each afternoon for story time. Embracing all that term 3 has to offer, Form 8 have already got stuck into their Games sessions taking part in tennis, swimming lessons, athletics and gymnastics.
We are off to a flying start with our
'Living Things' topic
, we have been exploring our local area, learning to identify various plants and flowers and spotting local wildlife. While digging up last years vegetables the children discovered many worms, a centipede, a fam
ily of woodlouse, ants and even a wiggling cocoon. Returning to the walled garden later in the week we learnt how to prepare the soil for planting and have sown our first wheat seeds.
Taking our experiencing from the outdoors back into the classroom, Form 8 have written lovely reports sequencing the key steps to planting seeds. This has been a great way to consolidate some of this week's sounds and practise some of our red words (tricky words).

Form 6 (Mrs Johnstone)
Our theme in the Pre-Prep this term is 'Living Things' and, in Form 6, our focus will be on different habitats and endangered animals.
In Science, the children are looking at the human body, the jobs of the organs and nutrition. The children created a life-sized picture of a person and researched, in pairs, the location and role of their organ.
In Maths, our focus this term will be on multiplication and division, fractions, time and money. We are currently learning about the relationship between multiplication and division as well as learning our 2-, 5- and 10-times tables.
A miniature garden design project is the focus of their DT lessons. They have looked at plans and views and are beginning to sketch their ideas for mini gardens for an elf, fairy or insect. The children were treated to a gardening lesson in our Walled Garden, where they prepared the soil and planted some heritage wheat as part of Scotland the Bread's 'Soil to Slice Programme'. Hopefully next term we will be able to use it to make some bread and cake!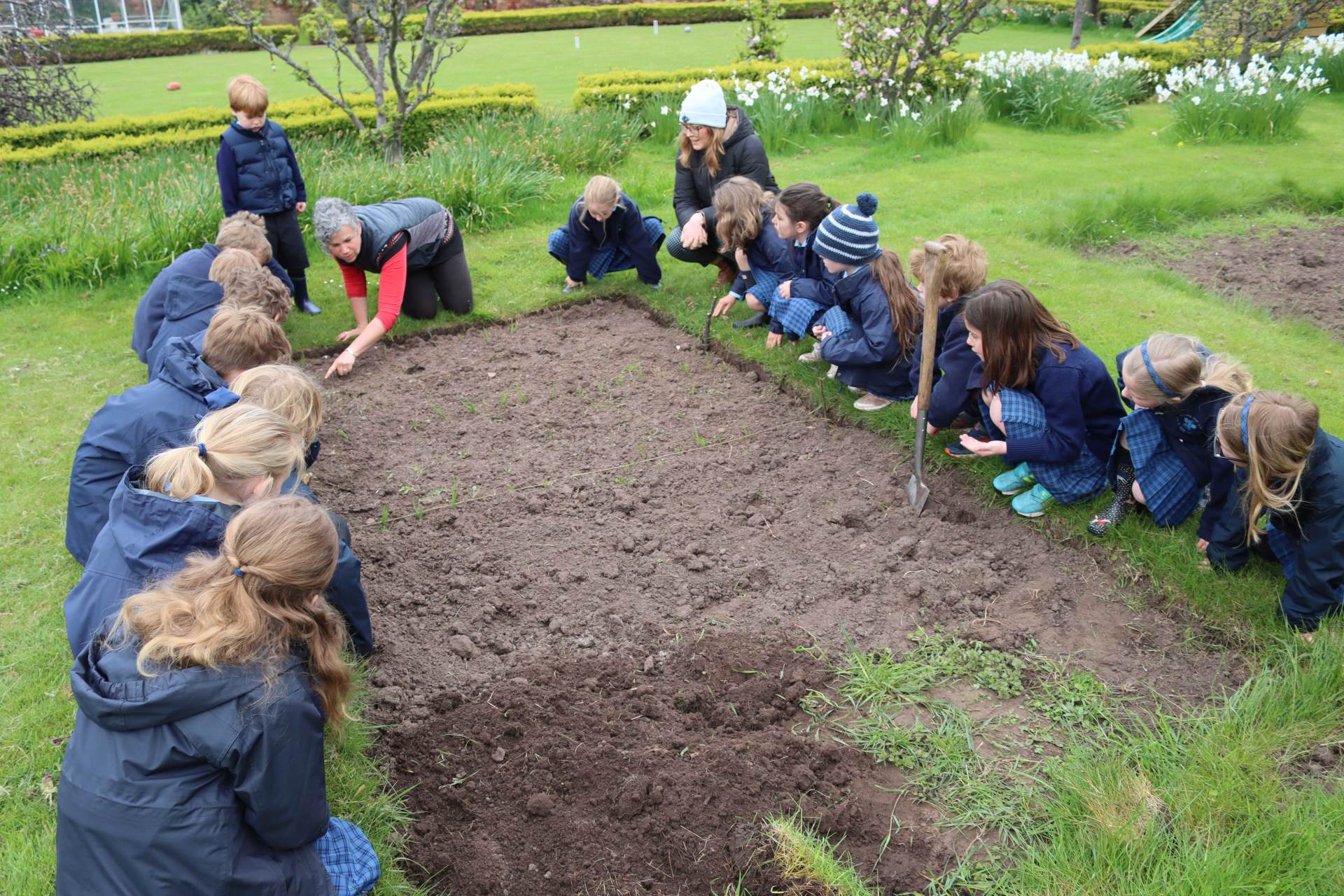 In Art, they have just started Rousseau-inspired landscapes. We have been drawing and painting plants and flowers to make imaginary rainforests and will begin to draw African and South American animals next week.
Preparations for our Pre-Prep concert in May are in full swing and the children are practising their recorders and singing songs in Music lessons. They are also getting ready for the poetry recital in a couple of weeks by choosing a poem and learning it by heart. This is not easy but a very valuable skill to learn.
As ever, the children have been extremely active - they enjoyed their first swimming lesson at Dunbar swimming pool with their coach and were also very excited to start their tennis lessons with Mr Darbyshire. The sports didn't end there with cricket and rounders sessions as well as athletics. The children are beginning to practise for their Sports' Day in June. We are keeping our fingers crossed for good weather!
Our Star of the Week is Isobel who has already scored 6 points for her patrol this term. Well done!