Season's Sports' Reports for the Summer Term 2023
Cross Country Season Report
2022-23 Cross-Country Season Report.
The cross-country year started with the now-staple Three Rivers' Run, a 3.4k circular run from the school around through part of John Muir Country Park but passing through three water obstacles. Having rounded the golf course all runners plunge across the Biel Water, ranging in depth from 30 cm to 1m. Pupils then run along the riverbed as far as 'Commando Bridge', a crossing to be ducked underneath, through the running sea water. The final hazard is one last jump into the Biel at a deeper point, after which we all gather together and have a dip in the sea. Brilliant. This year's winner was Alfie B., followed by Charlie T. and Eck T.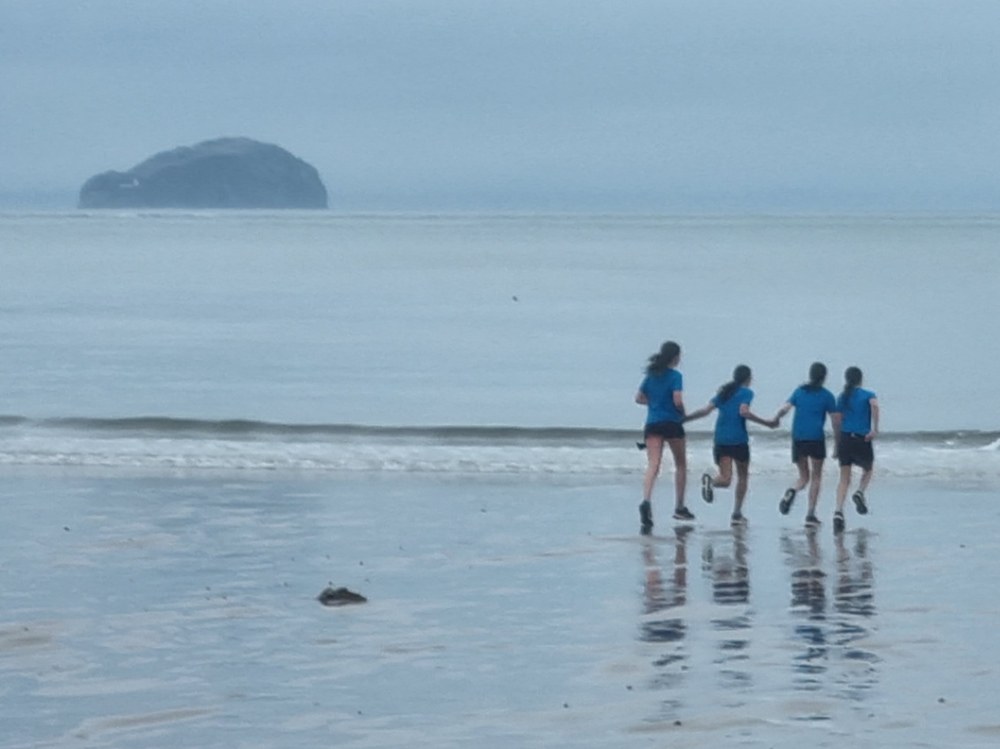 At Christmas we held our annual Christmas Games which involved the final Thursday Run of the year followed by competitive egg-and-spoon races at speed dressed as ridiculousnesses such as dinosaurs and sharks. Much fun.
The Patrol Cross-Country Relay has become a wonderful event and includes every single (fit) pupil in the school. Running the 5.1-mile course from school to the far end of John Muir Country Park, over the seven legs and four teams for each of the four patrols the Woodpeckers A-team eventually won out comfortably in 33 minutes, with the Wolves in second, the Lions third and the Owls in fourth.
After last year's winds blew the 37th Scottish Independent Schools' Cross-Country Championships off, we were back to form this year. Xander won the U9 boys' race while Emily, a year young, was 2nd in the U11 girls' for Belhaven. In the team awards we, remarkably, came in 4th position in five of the six races of the 14 teams, just outside the medal places – this year we were very much the bridesmaids rather than the bride, sadly! The event itself was a huge success, with a record 391 runners from schools ranging from Melrose in the southwest nearly to Aberdeen, a 150-mile spread. It is always a very special day in the prep schools' calendar, and we are proud to continue to host the event.
Next up was the Merchiston XC, a short but fun relay event. The situation from the S.I.S.I.C.C.C., perhaps unsurprisingly, recurred, as our teams finished generally just outside the medals, the U9 girls, U13 girls and U13 boys all finishing in fourth position. Again, Xander and Emily caught the eye, as did Charlie T., Alice R., Molly T. and Alfie B. Everyone left everything they had on the course and it was nice to see Rafe, formerly a very good runner, making his first competitive run back after serious injury. With our U13 team made up this year primarily of U12s, next year promises much.
In the last week of the spring term we held our annual Individual Cross-Country, a 2.1km dash around the school grounds. Alfie won the event in 7m 34s – the third fastest time on record as the first ever Form 2 to win the overall event, just pipping Fin into second place. Louisa was the first girl home, Charlie T. the first junior boy and Emily the first junior girl.
The Wolves won the event overall for the second year in a row, pipping the Woodies into second by just 0.09 of one position on average, followed by the Lions and finally the Owls in a race close between all four patrols. Well done to every pupil for participating.
Finally, on the very last day of the spring term (in fact the races began as prize-giving back at school actually ended!) we headed down to the Longridge Towers U10/U11 Cross-Country. As it actually took place just after the end of term we were not able to pick our strongest teams but nonetheless we entered three of the four races and performed spectacularly well, winning both the U10 girls' and U10 boys' events, and finishing third in the U11 boys' event. There were roughly 50 runners per race.
First up were the U10 girls, with Emily winning well, as I had expected, but Maggie coming in as high as 5th, Molly 6th and Sophie, running a year young, in 11th position was a wonderful surprise.
The U10 boys raced equally well, Wilbur winning the event, with Tommy (5th), Tristan (9th) and Geordie (13th) backing him up ably as we again won the overall competition.
Finally the U11 boys came in and with the loss of two of our strongest runners we didn't quite manage the victory in this category, although the boys did themselves proud, Charlie coming in in 2nd position on his 'home' turf, Hector 6th, Xander 12th and Bertie 23rd. Given that those last two are also young for this age group things bode very well for the future. So an incredibly fruitful day brought much-deserved silverware home to this very talented group of runners. Well done to all.
June saw our best and also our most determined runners take to the 2K or 3K for one final time in the Final Thursday Run of the Year. As we have pushed for excellence more and more, records are now much harder to come by and as such the day has become as much about celebrating our best and giving runners the best conditions to run in in their attempt to run their personal best, or attempt to run quicker than 12 minutes for 3K.
The fastest two runners this year, within a second of each other, were Fin and Alfie, finishing well ahead of the rest of the pack in 11m 09s for 3K, while Jamie, Archie S. and Eck also all ran sub-12 minutes. In Form 3 Charlie T. and F4's Wilbur both ran under 12 minutes and Harry Bar. was particularly happy as he came in with a time of 11m 59s!
Beyond that we had a group of girls who have always run their hearts out at Belhaven and they did so for one last time, Willow, Alice, Louisa, Bea and Lily all running in the '12s' or '13s'. Harry Bro., Sam J. and Laurie were my stars of the prep school, however. None is necessarily a natural runner but through sheer determination to improve themselves they managed to get themselves over the line in just over 12 minutes, showing what perseverance and a positive mind-set can do.
Down in Forms 4 and 5 there were some superb performances from Alexander, Innes, Ben, Tristan, Holly, Meme and Alice but pride of place goes to 9-year-old Xander who ran 3K in just 12m 25s.
In the pre-prep, however, it was a different story as records fell left, right and centre. The stars of the show were Annie F. in F7 and Harris A. in F8, both of whom claimed the 1K, 2K and 3K records. Both pupils ran the 3K in around 15 minutes – an incredible achievement given they are only 6 and 7 years of age! In addition, Ruaraidh also claimed the Form 7 1K boys' record in 5m 54s, Mary the F6 3K record in 15m 39 and Josephine the F8 2K record in 14m 35s. So many personal bests were also set and all pupils ran in great spirit, showing what great attitudes the pre-prep have towards their distance running. Such fun, effort and drive from these youngsters on a beautiful day made for running. Well done to everyone who took part and here's to adding our own little bit of the jigsaw to Belhaven's fantastic running tradition.
Late June saw the annual running by Belhaven Hill of the local Lochend Woods Parkrun. The idea behind the event is to encourage fitness and runners of any age and ability run or walk around 5K courses all over the country, and indeed all over the world. All courses are exactly 5K in length and are manned by volunteers every Saturday morning. All Form One pupils took part.
Fin came home first of the Belhaven contingent today, in 7th position with an excellent time of 21m. 07s. Tom gave his strongest running performance at the school in coming home in 24m. 51s. and Louisa G. finished as first Belhaven female home in 24m 45s. Well done to all of Form One for pushing yourselves in your first ever externally organised run.
So another great year of running at Belhaven, packed with individual and team successes. Runners of the year go to Alfie and Fin in the seniors and Emily, Wilbur and Charlie T. in the juniors.
Boys' Cricket: U9 Season Report
U9 Boys' Cricket – Season Report.
The U9 boys' cricket season was a hugely successful one, winning five and losing one of our fixtures, with a further match rained off.
We started the season with a straightforward match against Strathallan. We had never played Strath at this level, and, indeed, in fifteen years, I had never even visited the school for any fixture. The win was a comfortable one, by 147 runs for 4 to 26 runs for 6. Xander showed the class he has, taking three wickets, two catches and top scoring with 30 runs. All of our boys were much more professional in their setup than the hosts, and to a man we played well.
Our games against Fettes were called off, so straight on to the match against Ardvreck. Winning the toss, we restricted Ardvreck to just 43 runs for 11 wickets before we hit a whopping 123-6 by way of reply. Ben and Innes both took three wickets, but William, coming in last to bat, took the plaudits as he hit a monster 39 runs off just 14 balls. The b-team were also victorious, winning by 26 runs. So far so good.
Our only loss of the campaign came up next, a narrow defeat to Cargilfield. Our boys played tremendously well against a team picked from nearly twice as many U9s as we have to choose from. Good, consistent bowling from every Belhaven player saw the wickets shared around the team, as we held Cargilfield to 100-6 from 20 overs. In return we batted steadily and the runs came; three-quarters of the way through the match and we were ahead of where we needed to be, Xander having added an impressive 32 himself. Sadly the luck ran out, and as William pushed for the final runs which would have seen us over the line, wickets fell and we ended up on 79-7. As I commented to both teams at the time, Belhaven had the best batsman in Xander, but Cargilfield the best bowler.
Penultimately, we had a fairly comfortable win at St. Mary's, although we lost four wickets early on through some suicidal running between the wickets and lack of calling. It is a feature I notice every year of coaching U9s that the boys start the season cautious, and don't run enough, then once they have got the hang of the batting lark, they go gung-ho recklessly and need reining in. Some sharp words from me saw us settle down and in no small part thanks to William we knocked out 97-7. St. Mary's were no match for us in the field and we forced several run-outs as St. Mary's in fact bettered us in the 'unwise calling and running' stakes, to finish on 48-11. A good win after an early scare at a school we haven't always had it so easy at.
Our final match came away to Loretto which ended in a routine victory for us, losing only three wickets on our way to 141 whilst restricting Loretto to just 65 on a tiny boundary. William and Xander scoring 50 runs and taking four run-outs and catches between them was the difference as we comfortably won by 76 runs.
Season's Results

Strathallan

Won by 121 runs

Fettes

Rained off

Ardvreck a

Won by 80 runs

Ardvreck b

Won by 26 runs

Cargilfield

Lost by 21 runs

St. Mary's

Won by 44 runs

Loretto

Won by 76 runs
Player reviews:
Alexander: Bowling has improved beyond all recognition, from not releasing at the right time to torpedoing the ball down to the stumps. Excellent. Batting less good, as Alexander still wants to baseball slog every ball, plus he makes poor decisions in order to get himself down to the striker's end.
Ben: The most improved player. Very strong with the bat and quick with the ball. Needs to sort his feet out on releasing it, as he is prone to falling over but generally excellent.
Innes: Sorted out his bowling gremlins himself really well; now needs to look to get some pace into his deliveries. Solid with the bat but can be prone to the straight ball.
Leo: Confident with the bat, he showed good improvement with bowling but still has the tendency to bowl to square on to the stumps and so bowls with his arm at an angle.
Oak: Much improved over the season with bat and ball. Fielding reliable. Needs to hold the bat higher to strike the ball more truly, beware the straight balll and when bowling, keep that head up and arm at 12 o' clock.
Robin: Has listened well to how to bat and bowl but has yet to allow his body to accept this information naturally, rather than mechanically. Robin's bowling technique has improved, though he needs to sort out the timing of his release with his feet better, and when batting, just go to power that ball more often, Robin!
William: Strong batsman, coming second-top in the scoring charts with 107 runs in five matches. A good bowler, but he still has a desire to throw the ball.
Xander: Came into the side a very accomplished player and has only got better. Top wicket-taker and top batsman with109 runs. Good communicator in the field and an excellent decision-maker.
Player of the Year: William was invaluable for his batting, Ben improved the most overall, Alexander's bowling when concentrating unstoppable but for his runs, wickets, catches and run-outs, Xander was this season untouchable.