U11 Boys' Rugby v Clifton Hall
U11 Rugby Match Report
Opponents: Clifton Hall
Date: Saturday, 14th September
Time: 2.00pm
Venue: Clifton Hall, Newbridge

The first match of the season is always a hugely exciting one for the boys and a hugely interesting one for the coach and today's trip to Clifton Hall was no exception.
The boys have been working tirelessly over the past six training sessions to try and get match ready but with so many areas on which to work (not least of all transitioning the younger boys into tackle for the first time), I worried that the team might not put it all together for the match. I needn't have.
Compared to our pitch, Clifton's was very narrow which meant less space out wide and more tackling to do and I was delighted with most of the boys' efforts: true, one or two tackles were a bit high and not every attempt was successful but, on the whole, the boys applied themselves well and were effective. Top tacklers today were probably Henry, James, Saul, George and Johnny.
Our passing has come on tremendously in training and we were good in this area again today, passing before we were stopped and trying to get the ball wide at (almost) every opportunity. I was also pleased with how boys targeted the gap then offloaded once through it. Tom, James, Jamie and Josh did very well here.
It was, however, at the breakdown that we dominated play giving us the possession to score tries. Hugo proved to be a real dynamo here, winning numerous rucks but Cosmo 'The Unit' also threw himself into rucks.
What I am pleased about is that it wasn't only the boys mentioned in each category above that did those things – almost everyone got stuck into every part of play and this extended to the scoring of tries, with seven of the ten boys in the squad today managing to score. It really was a good team effort.
For me, the highlight of the match was when, after I'd admonished a couple of our boys for handing off, George made a brilliant run down the wing. I (the ref) turned to check on a player behind me who'd had a little knock and when I looked up again, it was to see George stopping and then handing the ball to the opposition while just two meters from the try line.
"What," I asked him, "is going on here, George?"
"I handed someone off, sir," he replied.
So I blew the whistle and awarded a penalty to the opposition, much to the amusement of the spectators. Brilliant.
We will face tougher, bigger, faster opposition than today but it was a very promising start to the season. Well done, boys.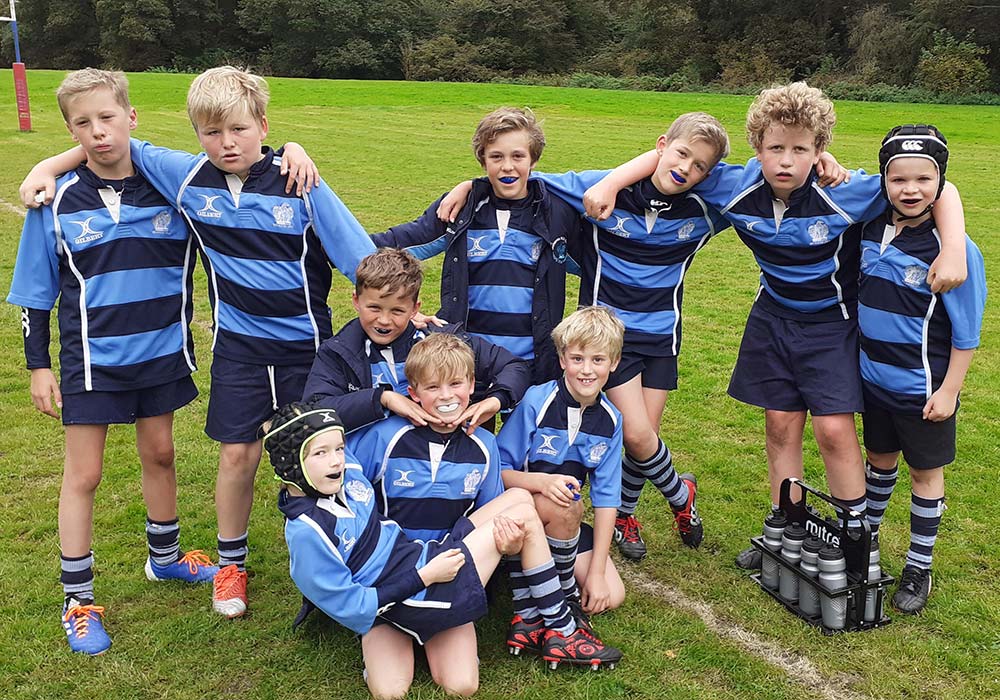 Belhaven 9 - 4 Clifton Hall
MOTM: Surely it has to be George? Skill, determination and honesty.
W.T.